The East Gwillimbury Economic Development Department is here to support our business community. As we navigate the COVID-19 pandemic, we are working with our industry partners to ensure that you have the supports you need.
Economic Development Department
Email
Telephone: (905) 478-4282
Business Recovery Check-In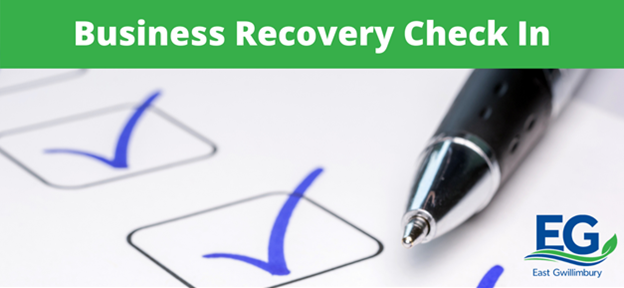 We want to hear from you! It has been one year since COVID-19 was declared a global pandemic and we would like to further understand how our local businesses and organizations are doing. Complete the Business Recovery Check In to let us know whether you accessed any of the funding supports or programs so we gain some insight on the challenges and opportunities to support your ongoing business recovery. Click here to fill out the form.
If you require assistance to complete the form, have questions, or would prefer to complete the form by phone, please contact our office and a member of our team will contact you to arrange a time to speak.
Economic Development Department
Email our team!
COVID-19 Update
March 09, 2022 | Ontario Removing Masking Requirement
Ontario's Chief Medical Officer of Health Dr. Kieran Moore announced the Provincial mandate requiring the use of a mask inside public spaces will be lifted effective Monday, March 21. Under the Province's new Living with and Managing COVID-19 Plan, masking will remain in select settings such as public transit, health care settings, long-term care homes and congregate care settings.
Learn how Ontario intends to lift the remaining public health and workplace safety measures and learn to manage COVID-19 for the long-term.
Programs and Funding Overview
Canada Digital Adoption Program (CDAP)
How Canadians do business has changed. To stay competitive and grow, small and medium-sized businesses need to adopt new digital tools.
In Budget 2021, the Government of Canada announced the $4 billion Canada Digital Adoption Program (CDAP) to help get your business online, give your e-commerce presence a boost or help digitalize your business's operations.
CDAP provides funding and support to businesses, as well as training and work opportunities for young Canadians.
The program offers two streams:
Grow Your Business Online: Apply for a micro-grant and access e-commerce advisors to help you go digital and take advantage of e-commerce opportunities.
Boost Your Business Technology: Apply for a grant to help you develop a digital plan, and leverage funded work placements to help with your digital transformation.
Which grant is your business eligible for?
Ontario Business Costs Rebate Program
Ontario Business Costs Rebate Program | Eligible businesses that are required to close or reduce capacity will receive rebate payments for a portion of the property tax and energy costs they incur while subject to these measures. Eligible businesses required to reduce capacity to 50 per cent, such as smaller retail stores, will receive a rebate payment equivalent to 50 per cent of their costs, while businesses required to close for indoor activities, such as restaurants and gyms, will receive a rebate payment equivalent to 100 per cent of their costs.
Tourism Relief Fund
The Tourism Relief Fund (TRF), administered by Canada's regional development agencies and Innovation, Science and Economic Development Canada (ISED), is a $500-million national program to support the tourism sector in Canada.
The TRF will help position Canada as a destination of choice as domestic and international travel rebounds by:
empowering tourism businesses to create new or enhance existing tourism experiences and products to attract more local and domestic visitors
helping the sector reposition itself to welcome international visitors, by providing the best Canadian tourism experiences we have to offer the world
Initiatives under this fund will help tourism businesses and organizations:
adapt their operations to meet public health requirements
improve their products and services
position themselves for post-pandemic economic recovery
Contributions to businesses will be either:
non-repayable contributions up to $100,000 for up to 50% of eligible costs or
fully repayable contributions up to $500,000 for up to 75% of eligible costs
Not-for-profit organizations and Indigenous entities (not generating profits) will be eligible for non-repayable contributions.
Project contribution amounts would not exceed $500,000. The actual contribution amount will be based on the minimum amount required to carry out the project.
Application Deadline: May 15, 2022
Improving Cash Flows for Ontario Businesses
Improving Cash Flows for Ontario Businesses | Additional support to help improve cash flows for Ontario businesses by providing a six-month interest- and penalty-free period to make payments for most provincially administered taxes. This will:
support businesses in the immediate term while capacity restrictions are in place
provide the flexibility Ontario businesses will need for long-term planning
The six-month period will begin on January 1, 2022 and end on July 1, 2022.
This measure will provide up to $7.5 billion in relief to help approximately 80,000 Ontario businesses. Businesses will have the option to delay their payments for the following provincially administered taxes:
Employer Health Tax
Beer, Wine & Spirits Taxes
Tobacco Tax
Insurance Premium Tax
Fuel Tax
International Fuel Tax Agreement
Gas Tax
Retail Sales Tax on Insurance Contracts & Benefit Plans
Mining Tax
Race Tracks Tax
Summer Company 2022
Calling All Students Interested in Owning a Business!
Are you enrolled in a secondary or post-secondary institution as a full-time student but thought about launching your own business?
Each summer, in partnership with the Government of Ontario, the York Small Business Enterprise Centre administers its Summer Company program. The program is designed to foster and develop the entrepreneurial spirit in students between the ages of 15 to 29 , and who are registered to return to school full-time in September 2021.
All that's required is a good idea, commitment and hard work. In return, students receive:
Hands-on training and skills development
Coaching and guidance
Mentorship to help develop and launch a business over the summer
Opportunity to receive financial support of up to $3,000
The application deadline is May 31, 2022 or whenever our available spots are full, whichever comes first. We recommend applying early to secure your space, if eligible.
South Lake Futures COVID-19 Response Fund
In response to the negative impact COVID-19 is having on local businesses, South Lake Futures established the COVID-19 Response Fund to offer loans between $5,000 and $20,000 below prime rate to support businesses impacted by the pandemic.
For more information on this fund, please contact:

Nicole Lacy, Business Loans Officer
E-mail: nlacy@southlakefutures.ca
Website: South Lake Futures
Business Updates
The East Gwillimbury Economic Development team will continue to support businesses during this difficult time. To ensure the health and safety of our clients and staff, all business support activities will be conducted via telephone (905) 478-4282 and email. Send an email to the EG Economic Development team.
Due dates for municipal property taxes and utility bills remain as normal timelines indicated on the bills. Residents are encouraged to pay if able, however, if there is a concern regarding the ability to pay a bill, please email the Finance Department.
The Town of East Gwillimbury's Community Support Hotline is now open Monday to Friday from 8:30 a.m. to 4:30 p.m. at (905) 478-3820 to provide hands-on assistance to residents and small business owners in identifying and applying for COVID-19 related Federal, Provincial, and Municipal Support Programs.
The East Gwillimbury Chamber of Commerce continues to support local businesses throughout these unprecedented times. Please email the Chamber of Commerce directly with any questions you may have as the EGCOC office will be working remotely. Please visit the event calendar for upcoming events and seminars.
South Lake Futures remains committed to serving clients during this challenging time. Offices will be staffed but closed to the public until further notice, and will continue to be available through email and telephone 1 (866) 605-1244. Send an email to South Lake Futures. Ongoing updates will be posted to their website and social media.
York Small Business Enterprise Centre continues to offer business supports and consultations via email while the office remains closed to the public until further notice. Email York Small Business Enterprise Centre for assistance or visit the events calendar for upcoming events and seminars.
211 Ontario Information Hotline is your primary source for information on government and community-based social services. Find local services and supports in areas such as Foodbanks, Food Delivery, Helplines, Housing Support, Mental Health Support, Ready to Eat/Take Away Meals, and more. This hotline is free and confidential and available by TTY: 1 (888) 340-1001. You can email 211 Ontario Information Hotline or live chat with professionals 24 hours a day, and 7 days a week in over 100 languages.
Business Resources and Programs
ShopEG
ShopEG is your one-top shopping destination for local products and services. ShopEG is an extension of the East Gwillimbury's Chamber of Commerce business directory that is more inclusive, with real-time updates, and the ability to expand to include local events and special offers from our local businesses.
FanSaves Gift Certificate Program

The East Gwillimbury Chamber of Commerce partnered with FanSaves to support the local business community. This platform is free to EG businesses and will allow people to buy gift certificates from businesses that are currently closed or offering limited services, which they can use at a later date.
Distantly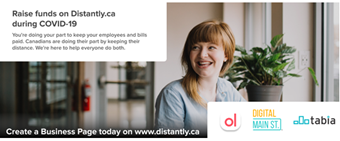 Distantly is an online donation platform that allows community members to make direct donations to small businesses in East Gwillimbury. The goal is to lessen the impact of non-essential closures by enabling customers to continue supporting businesses until they are able to full re-open.
Click the "Add my business" button in the top right-hand corner on the Distantly website.
ShopHERE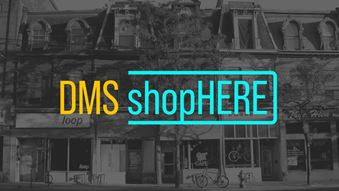 ShopHERE provides East Gwillimbury businesses the opportunity to develop online presence. The program provides a customized online store on Shopify, hands-on assistance with setting up and launching the online store, training and support for digital marketing, and access tools to launch of their online store. ShopHERE is free but businesses will be responsible for the monthly Shopify fee after the 90-day trial.
Government Support for Businesses
Resources for businesses, their employees and self‑employed individuals including financial support, loans and access to credit.
Government of Canada
Wage and Hiring Support
You may be eligible for a subsidy to cover part of your employee wages. This subsidy will enable you to re-hire workers, help prevent further job losses, and ease your business back into normal operations.
For each applicable claim period, eligible employers can claim one of the following, whichever gives the highest amount:
Tourism and Hospitality Recovery Program
Hardest-Hit Businesses Recovery Program
Canada Recovery Hiring Program
Canada Emergency Wage Subsidy
Apply to the Wage and Hiring Support
Rent and Property Expenses Support
You may be eligible for a subsidy to cover part of your commercial rent or property expenses.
Depending on the period you are applying for, you may be eligible to claim your commercial rent or property expenses through one of the following:
Canada Emergency Rent Subsidy
Tourism and Hospitality Recovery Program
Hardest-Hit Businesses Recovery Program
Apply to the rent and property expense support
Jobs and Growth Fund
The Jobs and Growth Fund is a $700-million program that supports regional job creation and positions local economies for long-term growth. This includes up to $70 million dedicated to businesses created after January 2020.
The Fund will help businesses and organizations that:
support the transition to a green economy
foster an inclusive recovery
enhance Canada's competitiveness through digital adoption to improve productivity and manufacturing processes
strengthen capacity in sectors critical to Canada's recovery and growth
Apply through your Regional Development Agency
Extending the Work-Sharing program
We have extended the maximum duration of the Work-Sharing program from 38 weeks to 76 weeks for employers affected by COVID-19.
Apply to the Work-Sharing Program
Highly Affected Sectors Credit Availability Program (HASCAP)
The Highly Affected Sectors Credit Availability Program provides businesses heavily impacted by COVID-19, access guaranteed, low-interest loans of $25,000 to $1 million to cover operational cash flow needs.
HASCAP is available to businesses that operate in sectors such as tourism and hospitality, restaurants and those that primarily rely on in-person services.
Business owners can apply for support until March 31, 2022
Learn More About the Highly Affected Sectors Credit Availability Program
Large Employer Emergency Financing Facility (LEEFF)
The Large Employer Emergency Financing Facility (LEEFF) provides bridge financing to Canada's largest employers, whose needs during the pandemic are not being met through conventional financing, in order to keep their operations going.
The additional liquidity provided through LEEFF allows Canada's largest businesses, their workers and their suppliers to remain active during this difficult time, and position them for a rapid economic recovery.
This program is delivered by the Canada Development Investment Corporation, in cooperation with Innovation, Science and Economic Development Canada and the Department of Finance.
Apply to the Large Employer Emergency Financing Facility (LEEFF)
Regional Municipality of York
In-person business advisory services are currently transitioning to phone consultations at this time. For information, please send an email to the Regional Municipality of York.

York Small Business Enterprise Centre (YSBEC): Effective immediately, where possible, the YSBEC will be moving all in person consultations to phone consultations. Consultations that cannot be completed by phone will be postponed until further notice. In addition, we will be evaluating all seminars and programs to see which ones can be delivered online. Please stay tuned for more information on our programs over the coming days and weeks including:
Other information
Routes Connecting Communities
Are you looking for someone to shop/deliver on your behalf, please email Routes Connecting Communities Inc. or call them at (905) 722-4616. Also, if you are willing to provide driving/delivery services for those in need, connect with us too. We match the need to the volunteers.
External resources to support the workplace