The East Gwillimbury Economic Development Department is here to support our business community. As we navigate the COVID-19 pandemic, we are working with our industry partners to ensure that you have the supports you need.
Economic Development Department
Email
Telephone: (905) 478-4282
Business Recovery Check-In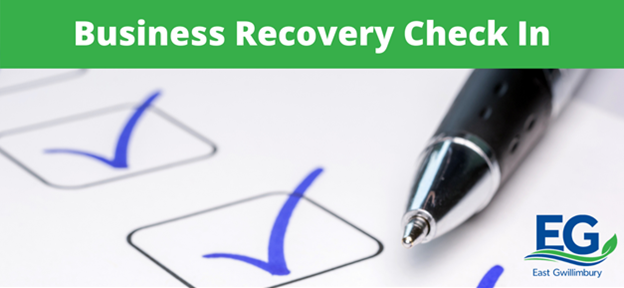 We want to hear from you! It has been one year since COVID-19 was declared a global pandemic and we would like to further understand how our local businesses and organizations are doing. Complete the Business Recovery Check In to let us know whether you accessed any of the funding supports or programs so we gain some insight on the challenges and opportunities to support your ongoing business recovery. Click here to fill out the form.
If you require assistance to complete the form, have questions, or would prefer to complete the form by phone, please contact our office and a member of our team will contact you to arrange a time to speak.
Economic Development Department
Email our team!
Business Bounce Back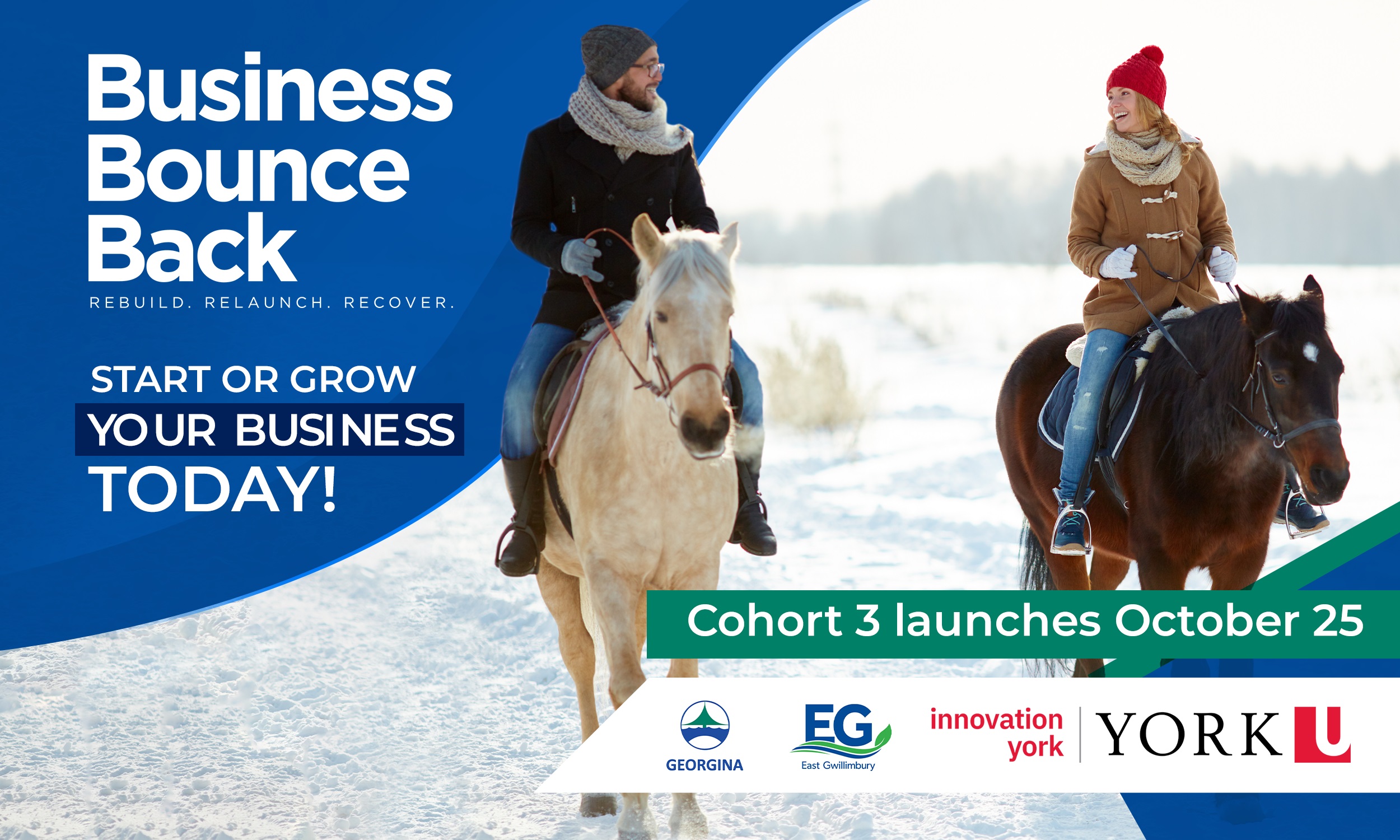 In partnership with the Town of Georgina and York University's YSpace, we are launching the Business Bounce Back program. This new three-month program is designed to support businesses and individuals who are primarily, but not exclusively, within the hospitality and tourism sector and require the entrepreneurial and digital skills needed to pivot their existing business or create a new venture. The program will provide founders with the tools, skills, and connections they need to scale and thrive in their industry.
The Business Bounce Back program will be broken down into three (3) cohorts and each cohort will span a three (3) month period. The participants are expected to dedicate the necessary time and effort and use the education skills provided to create new revenue opportunities for their existing or new business.
If you'd like to be notified when the third application launches, complete the form below:
Programs and Funding Overview
Ontario Tourism Recovery Program (OTRP)
Applications Open October 13, 2021 - The Ontario Tourism Recovery Program (OTRP) will support eligible tourism businesses that have been hardest hit by COVID-19. OTRP is a competitive, application-based program supporting private-sector tourism businesses that are significant drivers for their regional tourism economies.
Eligibility
To be eligible for this program, applicants that operate eligible tourism businesses must meet all of the following requirements:
be a for-profit business, legally incorporated (federally or provincially) as of January 1, 2018
operate an eligible tourism business in Ontario and have a Canadian bank account
have experienced eligible revenue decline of at least 50% in the reported 2020–2021 year (COVID impact year), compared to fiscal year-end 2019 (pre-COVID baseline year)
have annual financial statements for fiscal year-end 2018, 2019 and the reported 2020–2021 fiscal year that reflects the impacts of COVID-19 and related losses
have issued at least one T4 to an employee in 2019
normally be open to the public at least 12 consecutive weeks per year and open at least five days per week during operating season
be open, as permitted, in 2021
Property Tax and Energy Cost Rebates
Businesses that are, or were, required to shut down or significantly restrict services due to provincial public health measures can apply for rebates, provided in the form of grants, to help with their fixed costs.
Eligibility
All small businesses that are eligible for the Ontario Small Business Support Grant are also eligible for these property tax and energy bill rebates.
In addition, businesses are eligible if they:
Businesses struggling to pay their energy bulls as a result of COVID-19 may also be eligible for the COVID-19 Energy Assistance Program for Small Businesses (CEAP-SB) which you can apply to through your utility provider.
For more information: Government of Ontario - Businesses: Get Help With COVID-19 Costs
COVID-19 Energy Assistance Program for Small Businesses (CEAP-SB)
The COVID-19 Energy Assistance Program for Small Business (CEAP-SB) provides an on-bill credit to eligible small business and registered charity customers to help them catch up on their energy bills and resume regular payments.
Small business and registered charity customers may be eligible for up to $1,500 in support towards their electricity and natural gas bills, and can apply for on-bill credits for both electricity and natural gas separately. Customers who previously received CEAP-SB support that was less than the maximum amount of $1,500 and have additional arrears may apply again, but their total on-bill credits cannot exceed that amount.
You must apply for CEAP-SB through your utility or USMP. Contact your utility or USMP directly as each may have a unique approach for application in-take.
For more information: COVID-19 Energy Assistance Program for Small Businesses (CEAP-SB)
Professional Services Access Program
Do you need professional advice but are concerned about the potential costs? York Small Business Enterprise Centre is still accepting applications for the Northern York Region Professional Services Access Program.

What you can receive:

Initial consultation with a York Small Business Enterprise Centre Small Business Consultant
A referral for free professional services under ONE of the following service options:
Lawyer
Accountant
Financial Analyst
Marketing Expert
Human Resources Expert
The above list is not exhaustive, and you may qualify for other professional services. This is a limited time program, and space is available on a first-come first-served basis.
Submit your application today: York Small Business Enterprise Centre
South Lake Futures COVID-19 Response Fund
In response to the negative impact COVID-19 is having on local businesses, South Lake Futures established the COVID-19 Response Fund to offer loans between $5,000 and $20,000 below prime rate to support businesses impacted by the pandemic.
For more information on this fund, please contact:

Nicole Lacy, Business Loans Officer
E-mail: nlacy@southlakefutures.ca
Website: South Lake Futures
Business Updates
The East Gwillimbury Economic Development team will continue to support businesses during this difficult time. To ensure the health and safety of our clients and staff, all business support activities will be conducted via telephone (905) 478-4282 and email. Send an email to the EG Economic Development team.
Due dates for municipal property taxes and utility bills remain as normal timelines indicated on the bills. Residents are encouraged to pay if able, however, if there is a concern regarding the ability to pay a bill, please email the Finance Department.
The Town of East Gwillimbury's Community Support Hotline is now open Monday to Friday from 8:30 a.m. to 4:30 p.m. at (905) 478-3820 to provide hands-on assistance to residents and small business owners in identifying and applying for COVID-19 related Federal, Provincial, and Municipal Support Programs.
The East Gwillimbury Chamber of Commerce continues to support local businesses throughout these unprecedented times. Please email the Chamber of Commerce directly with any questions you may have as the EGCOC office will be working remotely. Please visit the event calendar for upcoming events and seminars.
South Lake Futures remains committed to serving clients during this challenging time. Offices will be staffed but closed to the public until further notice, and will continue to be available through email and telephone 1 (866) 605-1244. Send an email to South Lake Futures. Ongoing updates will be posted to their website and social media.
York Small Business Enterprise Centre continues to offer business supports and consultations via email while the office remains closed to the public until further notice. Email York Small Business Enterprise Centre for assistance or visit the events calendar for upcoming events and seminars.
211 Ontario Information Hotline is your primary source for information on government and community-based social services. Find local services and supports in areas such as Foodbanks, Food Delivery, Helplines, Housing Support, Mental Health Support, Ready to Eat/Take Away Meals, and more. This hotline is free and confidential and available by TTY: 1 (888) 340-1001. You can email 211 Ontario Information Hotline or live chat with professionals 24 hours a day, and 7 days a week in over 100 languages.
Business Resources and Programs
ShopEG
ShopEG is your one-top shopping destination for local products and services. ShopEG is an extension of the East Gwillimbury's Chamber of Commerce business directory that is more inclusive, with real-time updates, and the ability to expand to include local events and special offers from our local businesses.
FanSaves gift certificate program

The East Gwillimbury Chamber of Commerce partnered with FanSaves to support the local business community. This platform is free to EG businesses and will allow people to buy gift certificates from businesses that are currently closed or offering limited services, which they can use at a later date.
Distantly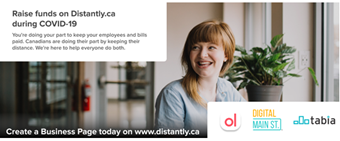 Distantly is an online donation platform that allows community members to make direct donations to small businesses in East Gwillimbury. The goal is to lessen the impact of non-essential closures by enabling customers to continue supporting businesses until they are able to full re-open.
Click the "Add my business" button in the top right-hand corner on the Distantly website.
ShopHERE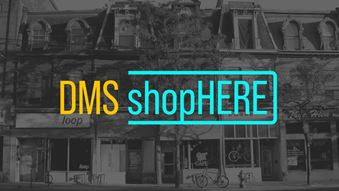 ShopHERE provides East Gwillimbury businesses the opportunity to develop online presence. The program provides a customized online store on Shopify, hands-on assistance with setting up and launching the online store, training and support for digital marketing, and access tools to launch of their online store. ShopHERE is free but businesses will be responsible for the monthly Shopify fee after the 90-day trial.
Government Support for Businesses
Resources for businesses, their employees and self‑employed individuals including financial support, loans and access to credit.
Government of Canada
Support for Businesses
Avoiding layoffs, rehiring employees and creating new jobs
Financial support, loans, and access to credit
Support for self-employed individuals
Regional Municipality of York
In-person business advisory services are currently transitioning to phone consultations at this time. For information, please send an email to the Regional Municipality of York.

York Small Business Enterprise Centre (YSBEC): Effective immediately, where possible, the YSBEC will be moving all in person consultations to phone consultations. Consultations that cannot be completed by phone will be postponed until further notice. In addition, we will be evaluating all seminars and programs to see which ones can be delivered online. Please stay tuned for more information on our programs over the coming days and weeks including:
Other information
Routes Connecting Communities
Are you looking for someone to shop/deliver on your behalf, please email Routes Connecting Communities Inc. or call them at (905) 722-4616. Also, if you are willing to provide driving/delivery services for those in need, connect with us too. We match the need to the volunteers.
External resources to support the workplace