The Economic Development Department is here to support our business community. As we navigate the recovery phase of the COVID-19 pandemic, we are working with our industry partners to ensure that you have the supports you need.
Business Recovery Check-In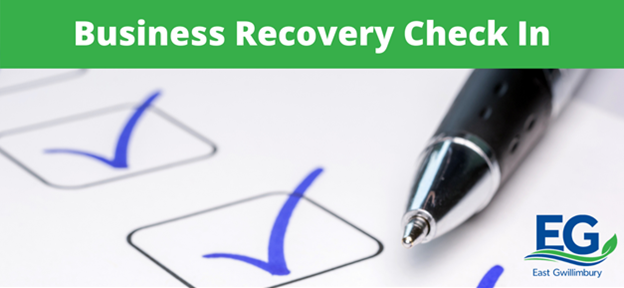 We want to hear from you! We would like to understand how our local businesses and organizations are doing as we move into the recovery phase of the COVID-19 pandemic.
Use the Business Recovery Check-In form to let us know if you've accessed any funding support or programs, so we can learn about the challenges you are facing.
Click here to fill out the form.
Please contact our office if you need help completing the form, have questions, or would rather complete the form by phone.
Business Resources and Programs
Entrepreneurship in East Gwillimbury
The Town of East Gwillimbury and the Town of Georgina are continuing a partnership with York University's YSpace to deliver a two-year Business Incubator and Accelerator pilot project to support entrepreneurs and economic growth during the recovery phase of the COVID-19 pandemic and beyond.

This project will create an ecosystem of entrepreneurial resources, including mentorship, access to networks and co-working space for collaboration at no cost to the business.

It will foster new business opportunities as well as personal and professional development for new and existing entrepreneurs. A combination of on-demand business support and programming within Georgina and East Gwillimbury, both in-person and virtually, will be offered. Programs will be refined and augmented to address the specific needs of each business community.
Tourism Recovery Fund
The Tourism Relief Fund supports tourism businesses and organizations to adapt their operations to meet public health requirements while investing in products and services to facilitate their future growth.

Eligible applicants include tourism entities that cater mainly to visitors, such as:
businesses
not-for-profit organizations, such as tourism associations
band councils or other Indigenous organizations and cooperatives
To be considered eligible for this fund, applicants must meet at least one of the following criteria:
be a key supplier or operator in the visitor experience
be part of a defined tourism cluster or a tourism dependent community, including supporting downtown cores or
provide an anchor product or service in a tourism destination
Financial support
Total contributions to businesses are either:
non-repayable contributions up to $100,000 for up to 50% of eligible costs or
fully repayable contributions up to $500,000 for up to 75% of eligible costs
Not-for-profit organizations and Indigenous entities (not generating profits) will be eligible for non-repayable contributions.
Total contribution amounts would not exceed $500,000. The actual contribution amount will be based on the minimum amount required to carry out the project.
FedDev Ontario is accepting applications for the Tourism Relief Fund in southern Ontario from November 2, 2022, to November 28, 2022. Tourism operators with events and activities during this time are eligible to apply.
Digital Main Street
Digital Main Street is a program that enables main street businesses to connect with the digital technologies, tools and service providers needed to increase sales, engage new customers and grow their business. The program includes:
The Digital Main Street Platform: Provides main street businesses with a digital assessment, to-do list and connections to trusted digital service providers (www.digitalmainstreet.ca)
The BIAcademy: A learning resource for businesses (workshops/training/online content)
The Digital Service Squad: Think a "geek squad" for main street to help businesses on-board and sustain digital tools/tech.
BIA Lab: Turning main street into a digital lab, where retail innovation startups can test/demonstrate their product with retailers.
Sign Up Today
Futurpreneur
Futurpreneur has been fueling the entrepreneurial passions of Canada's young enterprise for two decades. Futurpreneur is the only national, non-profit organization that provides financing, mentoring and support tools to aspiring business owners aged 18-39. Their internationally recognized mentoring program hand matches young entrepreneurs with a business expert from a network of more than 2,400 volunteer mentors.